"A very funny lady." Jay Leno on The Tonight Show

"Riotous, rib-crackingly funny." Vanity Fair
"Raucous." Entertainment Weekly
"Gillespie's writing is like the best radio commentary, leaving fans hungry for more." Publisher's Weekly
Classes, Workshops, Events and Appearances
January 27–28, 2018 — NEW YEAR'S RESOLUTION Writers Retreat sold out! Learn to write lightening fast, bust your writers block and get published. This is a special, first-time ever WRITE FAST writers retreat.
February 24, 2018 — Humor Writing with Hollis Gillespie! MAKE YOUR WRITING FUNNIER! Get People HOWLING at your blog posts, books, columns, tweets and Facebook posts! with Hollis Gillespie
February 25, 2018 — SRL Famous BLOGGING Class — ATLANTA In one workshop, here's everything you need to know to build a successful blog
February 24–25, 2018 — Screenwriting Workshop, Write Your Script in a Weekend
Anytime — Personal Consultation with Hollis Gillespie
Available Now!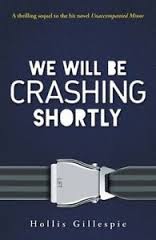 We Will be Crashing Shortly (Merit Press)
"A great action-packed blockbuster read. Gillespie maintains the suspense, keeping the reader completely wrapped up in the story. This is perfect for middle school and high school readers. Adults will [also] find this a fun light read and a great escape book." — YA Books Central 
"Meet April … one of my FAVORITE young adult main characters to date. Simply unforgettable, and the laughable-but-believable way the climax of this story takes place will keep you on the edge of your seat … .Pick this up for a great read." — YA Books Central
"The sequel to Unaccompanied Minor delivers another round of in-the-air shenanigans for would-be airline heiress April Mae Manning…. April's voice continues to charm…an amusing airline-industry thriller that informs as it entertains." — Kirkus Reviews
"April Mae Manning…once again finds herself in the middle of a series of crazy events…. Pure entertainment value, this series entry is action-packed and fast paced. Gillespie…writes funny dialogue…[and] this work has a ton of aviation-related trivia and facts along with all kinds of survival tips." — School Library Journal
"[Readers will] love buckling up for a rollicking ride with snack packs of aviation science and history that invite further tasting." — VOYA Magazine 
"April [Mae Manning] is a fantastic narrator: smart, funny, angry, and gifted in sarcasm . . . A fun read that combines believable characters and an outrageous situation and manages to make it all work." — Booklist
"A laugh-out-loud thriller about family court, money laundering and skyjacking. Former flight attendant Gillespie's insider knowledge infuses April's account with confident authority. Her impeccable comic timing … will leave readers … in stitches. A high-sky winner all the way from coast to coast." — Kirkus Reviews 
"Gillespie managed comedy on top of a story that . . . worked in so many ways. I thought I'd find the book a decent way to pass a few hours, and instead I found myself rapt." — YoungAdultBooks.About.com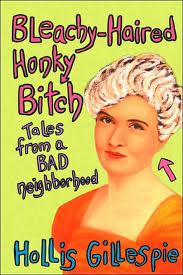 Bleachy-Haired Honky Bitch; Tales from a Bad Neighborhood (HarperCollins)
"Riotous . . . rib-crackingly funny tales." — Vanity Fair
"Raucous." — Entertainment Weekly
"Zesty . . . sometimes tender, but mostly just wry and a bit wild, Gillespie's writing is like the best radio commentary, leaving fans hungry for more." — Publishers Weekly
"Irreverent and earthy." — Booklist
"Funny and moving. Completely compelling." — San Francisco Chronicle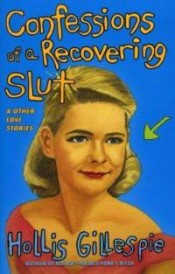 Confessions of a Recovering Slut (and Other Love Stories) (HarperCollins)
"A very trippy trip through Gillespie's head, rendered in glittery, jangly, spectacularly vulgar prose." — Atlanta Journal Constitution
"Candid. Wise. Funny." — Marie Claire
"A bleakly comic masterpiece." — Dallas Morning News
"Riotous, raunchy and surprisingly touching." — Miami Herald
"A Second Helping of self-consciously quirky, bite-sized anecdotes . . . Fans of the Atlanta writer's potty-mouthed humor and frank observations will find plenty of both here." — Washington Post
"If you judge a book by its title, you might think Gillespie's latest collection of autobiographical essays features torrid tales of bed-hopping and boozing. You'd be half-right…" — New York Post (4 star review)
"Can a book be bust-out hilarious and also break your heart? Hollis Gillespie's roller coaster memoir, Trailer Trashed, does just that. In it, she manages to remember not only herself, but each of us, as well." — #1 NYT best-seller Jacquelyn Mitchard, author of The Deep End of the Ocean and The Midnight Twins
"Interesting sketches focus on the personal. Readers…will find a lot to enjoy." — Publishers Weekly
"If you enjoy your humor twisted like a molly bolt, Gillespie is your gal. One of the few writers who require stretching warm-ups to avoid pulling something in a laughing seizure." — Tim Dorsey, author of Atomic Lobster
"If Hollis Gillespie was a character in one of my books, I'm sure she'd be the feisty, headstrong best friend who says something really, really funny before getting whacked in the head with a machete." — Karin Slaughter, #1 NYT international best-selling author of Fractured