"A very funny lady." Jay Leno on The Tonight Show

"Riotous, rib-crackingly funny." Vanity Fair
"Raucous." Entertainment Weekly
"Gillespie's writing is like the best radio commentary, leaving fans hungry for more." Publisher's Weekly
Classes, Workshops, Events and Appearances
June 2–July 7, 2020 — ONLINE course. Novel Writing 101; Writing the Breakout Book with Hollis Gillespie. Master the essentials of plot-point development, character, dialogue and writing style in this unique 6-week course with best-selling author Hollis Gillespie. Known for her ability to galvanize writers into producing their best works, Gillespie, founder of the largest writing school in Atlanta, has led scores of writers to the publishing promised land. Students who have taken her courses have landed book deals with HarperCollins, FWMedia, Random House and McGraw-Hill. Three have gone on to become bestsellers themselves, and two have gone even further and . . . (read more)
May 16–17, February 8–9, 2020 — Screenwriting Workshop, Write Your Script in a Weekend Michael Lucker hosts this fun and inspiring weekend writers camp, where you'll learn about Idea, Character, Plot, Scene Design, Dialogue and Rewriting through engaging lecture, film clips, screenplay excerpts and original class exercises. (read more)
October 23–25, 2020 —SPARTA Murder Mystery Writing Retreat At SRL we're feeding your inner MYSTERY WRITER this year! We're turning our writers retreat into a weekend getaway housed in an historic SOUTHERN GOTHIC HAUNTED mansion in Sparta, Georgia, hosted by me, Hollis Gillespie, along with the renowned, award-winning film producer Milford Thomas! This weekend will connect you with a creative symposium of like-minded MURDER/MYSERY writers! Here is what you can expect to learn: (read more)
Click HERE for Private Consultation
HERE are samples of more Shocking Real Life Alumni Success Stories!
What past participants say about the Shocking Real-Life Writing Seminar
"I made contact (totally used your letter) with a friend's agent at Writer's House. It worked! Now he wants to see the proposal. They loved the idea. Thanks again! The class was great." — Stephanie Davis, Editor, skirt! Magazine

"Hollis, thanks for being in touch so quickly. Your seminar rocked!! I want to be one of your successes. I'll start with [the agent you suggested] and if a rejection, will just keep going. I did not even realize I was so on fire about getting this book out there, until I felt the full Hollis Effect!!" — Susan Campbell

"Hollis Gillespie's writing workshop was the best I've ever attended. Hollis was extremely encouraging and helpful in both creative and procedural modes. And the yellow theme with the mimosas worked at a deep level of community which added to the enjoyment of the whole experience." — David Ryback

"Hollis is a rule-breaker who will teach you things you won't hear anywhere else. If you don't care about political correctness and want to learn a proven tactic to get an agent's attention, Hollis can show you the way." — Debbie Unterman

"Hollis and crew were positive and upbeat. 'Can't' wasn't spoken. The environment and food were 'quirky and fun,' one of the underlying themes of the workshop and Hollis's principles: build a support system of writers, share your work and contacts, and hit the send, send, send button on your computer made sense. The agent list was an added bonus." — Lynn Hesse

"The Hollis Gillespie workshop was money well spent and the day went by very quickly! Hollis took time with each person to help them clarify details of the story that they'd like to tell, develop a creative title, found similar books to use as examples in a pitch letter and provided a list with a recommendation of an agent (or agents) to contact. Hollis gave concise, realistic feedback to each person. As an added bonus, Michael Alvear spoke and each offered excellent advice. I came home and began work immediately on my story! I'm impressed by Hollis and Michael's philosophy of helping other writers. Thank you for offering this wonderful seminar to AtlantaWriters Club members." — Sharon LeMaster

"It was a great experience and nice to sit around a table with others who are dealing with the same obstacles I am. I liked the advice given to ignore conventions and rules when querying agents and publishers which I will paraphrase: as long as it's well written, go for it regardless of the 'supposed' hurdles or rules. Receiving a rejection doesn't necessarily mean you're work isn't any good or you didn't follow the rules. I liked having published authors talk about their personal experiences and paths to success using somewhat unconventional means. I spent part of yesterday putting the advice in practice and sent out several queries with an entirely different attitude." — Kathy Lewis
Available Now!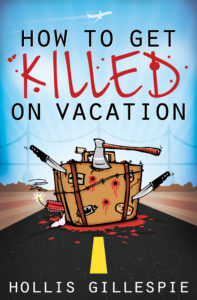 How to Get Killed on Vacation (Shocking Real Life Publishing)

Part memoir, part insider exposé and part worst-case scenario handbook, this hilarious book of essays will have you rolling with laughter all the way on (and off) the airplane. Hollis Gillespie – humor columnist, NBC Today Show travel expert and former airline "scullery plebe" – knocks this one out of the park with personal essays that impart hysterical advice for the truly terrified, while riotously explaining the following travel mysteries, among many others:
Why the mile-high club is not at all what it's cracked up to be
Which passengers are most likely to survive a plane wreck
What make the best improvised weapons on an aircraft
Why you should never stay in a hotel room above the fifteenth floor
The most kidnap-iest countries in the world
How to escape a locked car trunk
Why you should always put up your tray table, dammit!
That guy who tried to smuggle that human head through customs that one time
The inordinate amount of dead people taking up passenger seats on airplanes these days
How to Get Killed on Vacation will have you laughing so hard you'll be begging for oxygen.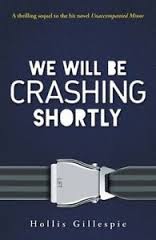 We Will be Crashing Shortly (Merit Press)
"A great action-packed blockbuster read. Gillespie maintains the suspense, keeping the reader completely wrapped up in the story. This is perfect for middle school and high school readers. Adults will [also] find this a fun light read and a great escape book." — YA Books Central
"Meet April … one of my FAVORITE young adult main characters to date. Simply unforgettable, and the laughable-but-believable way the climax of this story takes place will keep you on the edge of your seat … .Pick this up for a great read." — YA Books Central
"The sequel to Unaccompanied Minor delivers another round of in-the-air shenanigans for would-be airline heiress April Mae Manning…. April's voice continues to charm…an amusing airline-industry thriller that informs as it entertains." — Kirkus Reviews
"April Mae Manning…once again finds herself in the middle of a series of crazy events…. Pure entertainment value, this series entry is action-packed and fast paced. Gillespie…writes funny dialogue…[and] this work has a ton of aviation-related trivia and facts along with all kinds of survival tips." — School Library Journal
"[Readers will] love buckling up for a rollicking ride with snack packs of aviation science and history that invite further tasting." — VOYA Magazine
"April [Mae Manning] is a fantastic narrator: smart, funny, angry, and gifted in sarcasm . . . A fun read that combines believable characters and an outrageous situation and manages to make it all work." — Booklist
"A laugh-out-loud thriller about family court, money laundering and skyjacking. Former flight attendant Gillespie's insider knowledge infuses April's account with confident authority. Her impeccable comic timing … will leave readers … in stitches. A high-sky winner all the way from coast to coast." — Kirkus Reviews
"Gillespie managed comedy on top of a story that . . . worked in so many ways. I thought I'd find the book a decent way to pass a few hours, and instead I found myself rapt." — YoungAdultBooks.About.com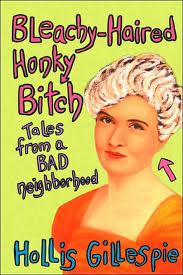 Bleachy-Haired Honky Bitch; Tales from a Bad Neighborhood (HarperCollins)
"Riotous . . . rib-crackingly funny tales." — Vanity Fair
"Raucous." — Entertainment Weekly
"Zesty . . . sometimes tender, but mostly just wry and a bit wild, Gillespie's writing is like the best radio commentary, leaving fans hungry for more." — Publishers Weekly
"Irreverent and earthy." — Booklist
"Funny and moving. Completely compelling." — San Francisco Chronicle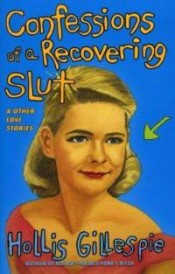 Confessions of a Recovering Slut (and Other Love Stories) (HarperCollins)
"A very trippy trip through Gillespie's head, rendered in glittery, jangly, spectacularly vulgar prose." — Atlanta Journal Constitution
"Candid. Wise. Funny." — Marie Claire
"A bleakly comic masterpiece." — Dallas Morning News
"Riotous, raunchy and surprisingly touching." — Miami Herald
"A Second Helping of self-consciously quirky, bite-sized anecdotes . . . Fans of the Atlanta writer's potty-mouthed humor and frank observations will find plenty of both here." — Washington Post
"If you judge a book by its title, you might think Gillespie's latest collection of autobiographical essays features torrid tales of bed-hopping and boozing. You'd be half-right…" — New York Post (4 star review)
"Can a book be bust-out hilarious and also break your heart? Hollis Gillespie's roller coaster memoir, Trailer Trashed, does just that. In it, she manages to remember not only herself, but each of us, as well." — #1 NYT best-seller Jacquelyn Mitchard, author of The Deep End of the Ocean and The Midnight Twins
"Interesting sketches focus on the personal. Readers…will find a lot to enjoy." — Publishers Weekly
"If you enjoy your humor twisted like a molly bolt, Gillespie is your gal. One of the few writers who require stretching warm-ups to avoid pulling something in a laughing seizure." — Tim Dorsey, author of Atomic Lobster
"If Hollis Gillespie was a character in one of my books, I'm sure she'd be the feisty, headstrong best friend who says something really, really funny before getting whacked in the head with a machete." — Karin Slaughter, #1 NYT international best-selling author of Fractured